Eating fish can reduce the risk of dying from a heart attack by one-third, leading the American Heart Association to recommend a diet that includes at least three ounces of fish twice per week.
The heart healthiest fish are fatty fish that are high in omega three fatty acids according to Tammy Roberts, nutrition and health education specialist with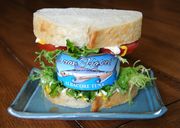 University of Missouri Extension. That includes fish like salmon, mackerel and herring. Tuna has omega three fatty acids but not as much as the others listed.
"Some people shy away from fish because of possible contaminants such as mercury, polychlorinated biphenyls (PCBs) and pesticide residues. There are warnings for
women of childbearing age and young children for shark, swordfish, king mackerel and tilefish," said Roberts.
The Environmental Protection Agency, the Food and Drug Administration and an Institute of Medicine report have all concluded, however, that there is not enough evidence to recommend limitations on fish for most adults.